Sump Pump Installation in Aurora and Surrounding Areas
What Does a Sump Pump Do?
Hidden in the deepest corner of your basement, your sump pump is mostly invisible, but could be the most important appliance in your house. The sump pump removes ground water from underneath your house. Without it, water coming up from the ground, or flowing in from a heavy rain can flood your basement or your whole house.
The sump pump usually sits in a pit built into your basement floor or crawlspace. The concrete floor is poured slightly downhill when the house is built so that any water will flow right into that pit. The sump pump ejects the water out of the house.
The sump pump sits in the bottom of the sump pit and has a switch that is activated by the water level. When you have water in your basement, it flows into the pit, the sump pump is activated and it pumps the water out of the pit through a discharge pipe to the outside.
A waterproofed basement is only as good as your sump pump. The core of your waterproofing system is your sump pump. A quality, properly functioning sump pump is essential in keeping your basement dry. It is a fact that all sump pumps fail, whether it just old and needs replacement, or a lack of power, we have the sump pump for you!
Throughout our years of experience and hundreds of sump pump installations, the most reliable sump has been the cast iron Zoeller M98 sump pump.
Zoeller Automatic M98-1/2 HP Cast Iron Submersible Sump Pump w/ vertical float switch (72 Gallons per minute)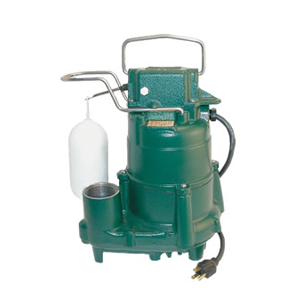 If every time you go down to your basement your sump pump activates and then shuts off, you hear a loud "thud" sound. That is your check valve making that "thud". If you have a baby or your bedroom is located right above your sump pit, you may be more familiar with that thud than most people!
Installing a quiet check valve will stop the noise coming from your check valve. The first thing you need to understand however is that it's not the pump that's making that noise. While your pump does make its own noises, the thud is actually coming from the check valve.
A check valve allows water to flow in only one direction, preventing back-flow of sewage or ground water that's being pumped out of your home. When the sump pump kicks in and flushes the ground water out of your basement, the water presses the check valve open as it flows through. When the pump shuts off, the sudden reversal of the water in that discharge pipe causes the check valve to close, creating the loud "thud" that you hear.  Get rid of the annoying "thud" sound once and for all, with our quiet check valve installation!
*Quiet check valve available with all sump pump installations.