Foundation Repair Services in Aurora and Surrounding Areas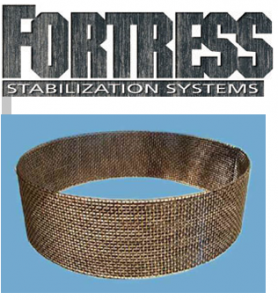 Fortress Stabilization Systems hybrid grid system is comprised of high tensile strength carbon fiber and kevlar. The fibers are encapsulated in a thermal set resin and cured in tension. A peel-ply fabric is adhered to the strap, when removed it leaves a prepared bonding surface for adhesive to a prepared substrate.
Replacing the Use of Steel with Carbon Fiber
Carbon Fiber is now a proven popular alternative to steel for reinforcing structural substrates in residential and commercial concrete applications.
Carbon fiber is highly effective at adding tensile strength to concrete. It is superior to steel since it is stronger, stiffer and non-corrosive. It can be bonded to the surface of a concrete structure at any time to stop bowing and cracking. This allows limitless applications for new construction, repair, retrofit and seismic upgrades.
The unique Fortress Carbon Fiber/Kevlar Grid System delivers properties unmatched in the market today. The patented Fortress Grid Strap is the only pre-cured product that is fully encapsulated in epoxy. Others are simply glued onto the wall and can peel off.
Every hole in the grid allows the outer epoxy to touch the inner epoxy rivet. These rivets act as rip stops preventing the grid from peeling off. In addition it allows for visual inspection for resin voids and air pockets.
The grid is very thin allowing it to form around a bowed wall. Used in conjunction with the vacuum lamination system it is possible to reinforce bowed walls where solid plates would spring off.
Non Obtrusive – lays flat to substrate
No destructive attachments made to the floor or ceiling
Inclusion of Kevlar provides additional strength
Grid is fully encapsulated in epoxy anchoring it in place
Can be painted for a smooth clean look
Vacuum clamping system ensures regulated void free every time
The Clean-Peel backing strip provides a clean prepared bonding surface
Consistent material properties
High bond strength
Prepared peel-ply bonding surface
Pre-mixed toughened epoxy
Able to conform to bowed surfaces
Tensile strength is a function of width of strap
Kevlar Necktie Top Wall Anchoring System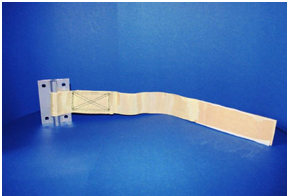 Fortress Kevlar Necktie is an Aramid Composite webbing combined with an aluminum bracket and zinc coated lags that laminates into 4020 epoxy resin system. Half of the Aramid webbing is traditional fabric, the other half is pre-prag pre-cured with peel-ply which laminates to the foundation assuring entire strap will load in conjunction. It is designed to attach to the bond or ridge plate of structure which remains constant whether there is a sill plate or no sill plate present
Why the Top Wall Anchoring System?
Prior to the Kevlar Necktie, retrofit foundation repair methods were obtrusive, heavy and many other elements had to moved such as pipes, duct work, etc. Also these foundation and basement wall repair methods interfered with ceiling height and in many cases affected the value of the property. After the Fortress Kevlar Necktie is attached and the insulation is reinstalled between the foundation joist pockets, the Necktie is virtually unseen.
The Fortress Necktie will permanently repair top wall concrete foundation movement. The process is fast, easy and on most occasions can be done in one day with little disruption to your life. The Fortress Kevlar Necktie has been tested both in the field and by an independent engineering firm. Trust the results to protect the value of your home.
The Fortress Kevlar Necktie can be used in conjunction with other Fortress Stabilization System products to better fix concrete cracks and moving foundations permanently.
Load at top of wall is tensile and then becomes shear. Bracket is held by 4 lags that have pull out tensile in wood 9 times standard penny nails, lamination technique with vacuum clamping pulls Kevlar tight and reduces elongation. Load is then transferred to epoxy resin to non-laitance bearing surface. Kevlar in epoxy matrix produces a lap shear of 750 psi. Necktie can be laminated over Fortress straps or independent of strapping.
When using crack injection for repairing structural cracks, the added use of Carbon Fiber Staples provides the necessary reinforcement to ensure that repaired cracks remain permanent. The use of Carbon Fiber Staples also prevents new cracks from developing around the repaired crack. Carbon fiber has proven to be a safer and more effective product for structural reinforcement than steel. When countersunk, these carbon fiber staples lay flat against the foundation, leaving the wall with no obstruction and ready to paint. Carbon Fiber Staples will not rust or deteriorate.