Gutter Downspout Installation in Aurora and Surrounding Areas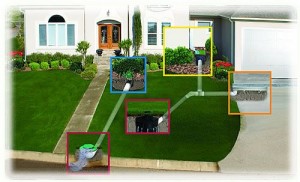 Proper water management around the foundation of your home can be very effective at keeping the water from reaching your basement. When a gutter downspout is discharging rain water close to your home this allows water to pool around the foundation of your home. Usually the water then seeps in over the top of your foundation, if the ground level is at the same level as the top of your foundation. In other cases bad downspout drainage can form pools of surface water near your home.  The soil becomes saturated, exerting pressure on your basement walls, in turn causing cracks in your foundation.
Common Gutter Downspout Problems
Improper gutter downspout installation or maintenance can lead to various issues. Here are some common problems homeowners may encounter:
Clogged Downspouts: Over time, leaves, debris, and even small animals can obstruct downspouts, preventing proper water flow. This can result in overflowing gutters and water pooling around your home's foundation.

Inadequate Length: Some downspouts discharge rainwater too close to the foundation, allowing water to accumulate near the base of your home. This can lead to seepage and foundation damage.

Misaligned Downspouts: Downspouts should be properly aligned to direct water away from your foundation. Misalignment can lead to water pooling issues and compromised drainage.

Lack of Extensions: Downspout extensions are essential for directing water away from your home's foundation. Without extensions, rainwater may collect close to the foundation, increasing the risk of basement flooding.
Call Everseal Basement for Gutter Downspout Installation in Aurora
Don't wait until water-related issues compromise the integrity of your foundation. Contact Everseal Basement today for expert gutter downspout installation in Aurora. Our team is ready to assess your needs, provide personalized solutions, and safeguard your home from potential water damage. Let's work together to keep your foundation dry and your living space secure.